Wavepods
Wavepods is a musical experience that helps kids 10-14 to improve their skills by following preset rhythms in order to complete a song, and by forming virtual bands with other users.
When the band is playing the song correctly, other songs are unlocked and the difficulty level increases. The players can also compose and upload their own songs, and share them with other Wavepod users, in order to give their contribution to the community and get the best out of their experience.
The HeadPod help kids with many things like setting the song, the tempo, and to specify how many PlayPods are connected and which type are they. It also outputs the song's audio
The PlayPods come in different flavours, each equipped with sensors that emulates a specific "instrument interaction" (percussion, gyroscope and acceleration, theremin), and when a PlayPod is connected, the player can associate it with a specific song's track (bassdrum, snaredrum, guitar, bass, synth, trumpet, you name it!).
With the use of leds, the PlayPod provides the rhythm tempo and the note position, and detects if the player is following the tempo, asking him to repeat the measure if he did too many mistakes.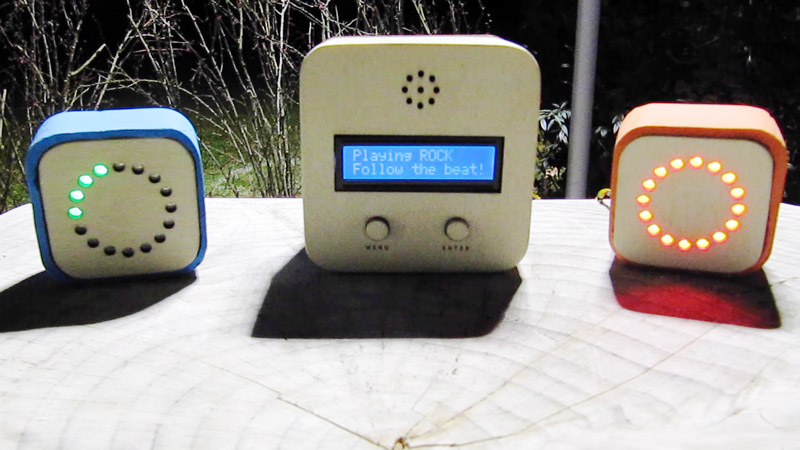 Brief and research
The brief for the course "Designing Advanced Artifacts" was to create an experience for kids aged 10-14 that helps them to develop one of 21th century skills.
What are the so called "21th century skills", and why are they so relevant?
They are considered to be the most valuable skills to today's kids, because they help them to build a good mindset in order to be productive, creative and to keep up with the pace of the fast-moving society we live in.
Critical thinking
Creativity
Collaboration
Communication
Information literacy
Media literacy
Technology literacy
Flexibility
Leadership
Initiative
Productivity
Social skills
Music as a supporting tool
With mobile phones becoming more accessible, and with more content created for them, kids are facing a change in how they experience their physical and social development, and how they relate with the environment.
In order to create an experience that can be playful and active, we identified music as a creative support to let kids improve their coordination and collaboration skills, which are really important in their growth age, and we thought of interactive artifacts that can be used anywhere, but stimulates them to play in groups and enjoy pubic spaces like playgrounds.